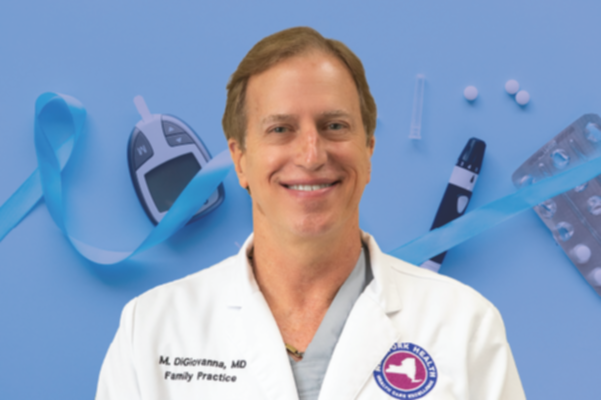 Taking Control of Diabetes
Diabetes is a multifactorial disease that can affect every organ system in your body. The condition occurs when blood glucose, also called blood sugar, is too high. The most common types of diabetes are type 1, type 2, and gestational diabetes. When it comes to prediabetes, there are no apparent symptoms. However, warning signs may include loss of sensation, tingling in the feet or hands, increased appetite or thirst, or excessive urination.
"Type 2 diabetes is in epidemic proportions because it goes hand in hand with the obesity epidemic," said Dr. Michael J. DiGiovanna, a family practice physician at New York Health. "As our population is eating less healthy and gaining weight, rates of diabetes are continuing to rise, especially among certain ethnic groups."
Dr. DiGiovanna encourages everyone to have a diabetes screening once a year when they see their doctor for an annual physical. The screening consists of a complete examination and screens for the suitability of diabetes, like early peripheral neuropathy. It also checks hemoglobin A1c levels, which determine blood sugar averages over three months. Blood glucose tests will require fasting for eight hours immediately before your appointment.
It is essential to see a doctor experienced in treating diabetes because it has changed drastically over the last few years. Many medications on the market can lower blood sugar levels and reduce the risk of developing health problems, such as cardiovascular and kidney disease.
The good news is that diabetes is largely preventable by making lifestyle changes. Keeping weight in check, being active, eating a healthy diet with lots of fruits and vegetables, limiting fat intake, and avoiding processed carbohydrates can help prevent most cases.
For patients with diabetes, at-home glucose monitoring is also a great way to check sugar levels and can be done by fingerstick glucose or with continuous glucose monitors. It helps control diet and pulls everything together.
"Exercise, medication, and of course, getting checked once a year is key," Dr. DiGiovanna said.
To make an appointment with Dr.DiGiovanna, call (631) 758-7003. For more information, please visit www.nyhealth.com.