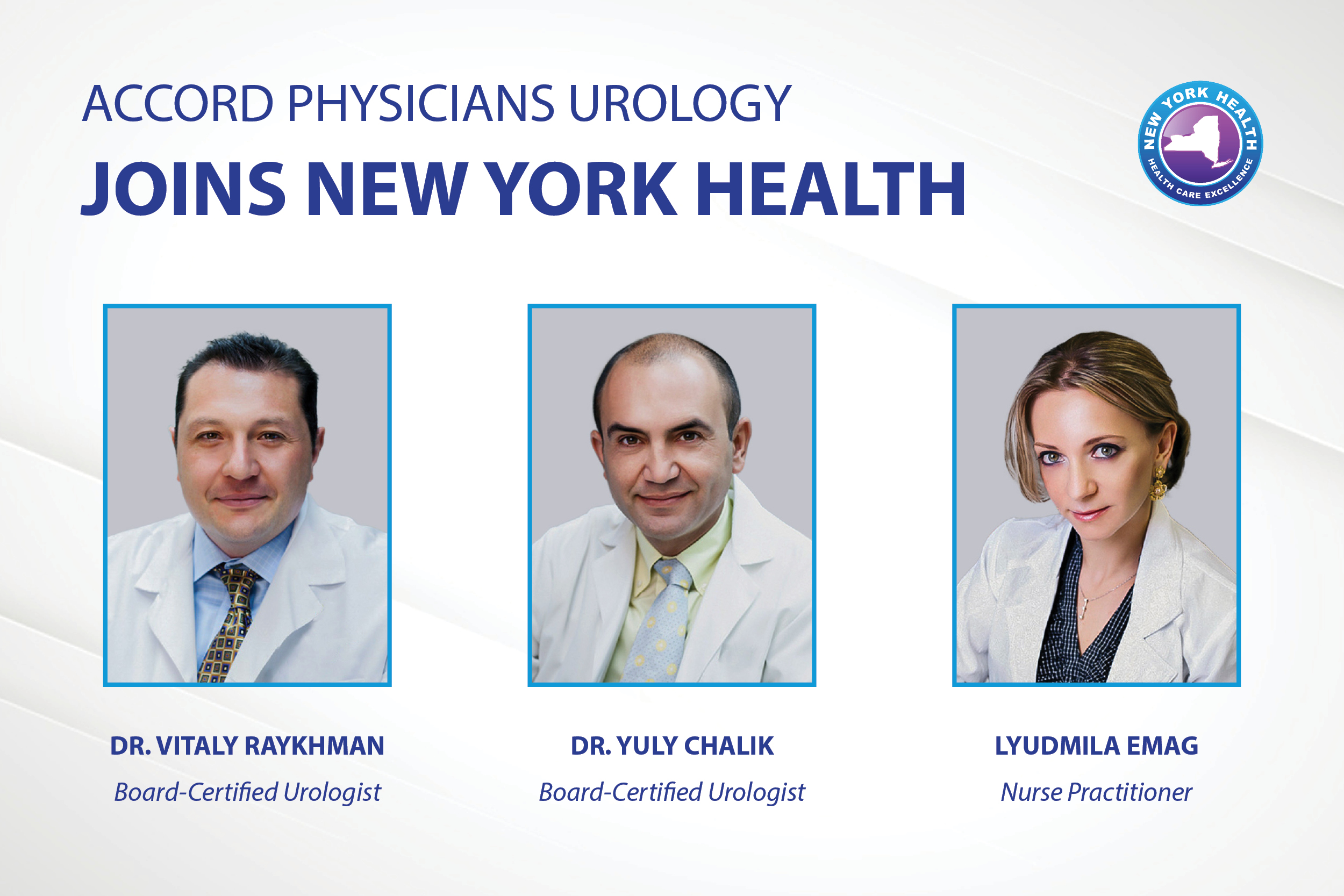 Accord Physicians Urology Joins New York Health
New York Health, the premier primary and specialty care practice, is pleased to announce that Accord Physicians Urology has joined its network of specialty care providers. Accord Physicians Urology is a comprehensive urology group located in Queens and Brooklyn at 107-15 Jamaica Ave, Queens, NY 11418, and 2632 East 14th Street, Brooklyn, NY 11235.
"We are extremely proud to have Accord Physicians Urology join NY Health as part of our network," said Dr. Rohit Reejsinghani, FACP, MBA, Executive Director of NY Health. "The addition of these highly qualified and well-respected physicians will enable us to continue delivering quality urologic care for all our patients across the region."
The board-certified urologists include Drs. Vitaly Raykhman and Yuly Chalik, along with Nurse Practitioner Lyudmila Emag. The skilled team has a passion for urology and specializes in diagnosing and treating diseases related to the male and female urinary tract and pelvic and sexual organs. Offered services include men's and women's urinary tract concerns, sexual health, gynecology, male factor infertility, and general health.
Dr. Raykhman is an expert in the areas of prostate cancer, complicated urinary tract infections, and urinary problems due to prostate enlargement. In his free time, he enjoys long-distance bike riding and snowboarding. He is fluent in English, Russian, and proficient in medical Spanish.
Dr. Chalik has special expertise in treating patients with urological stones, benign prostatic hyperplasia, and erectile dysfunction. He has been named one of "America's Top Urologists" for multiple years. Dr. Chalik speaks English and Russian fluently.
Ms. Emag specializes in urology and urogynecology. She treats conditions like urinary incontinence, urinary tract infections, sexually transmitted diseases, frequent urination, kidney infections, BPH, and several other issues. An immigrant herself, her patients come from diverse backgrounds, including Russia, China, Pakistan, Bangladesh, and the Caribbean countries. Her patients often praise her for her helpful explanations of their conditions, options, and next steps.
"We are thrilled to welcome Drs. Raykhman and Chalik, and Nurse Practitioner Lyudmila Emag to NY Health," said Rusty Dreksler, Chief Clinical Officer. "We look forward to their contributions and the benefits they will bring both our staff and our patients."
To make an appointment, call 718-375-2100.